With all of its pet fairs and dog parks, Savannah is well known for being a pet-friendly town. The city is home to many four-legged family members and when their health suffers, their families seek out health care with the same grave urgency of their human counterparts.
Savannah Veterinary Internal Medicine and Intensive Care (SVIMIC) is a new member to the vet community. Filling a void within the city, SVIMIC works with family veterinarians to diagnose and treat chronic or critical diseases in cats and dogs. The team approached bighouse graphix for a website, and as the clinic builds its business, BHG is excited to announce SVIMIC's online debut.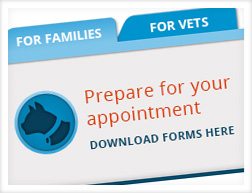 SVIMIC's practice is referral-based, with family veterinarian's recommending their most serious and needy patients. Therefore, the SVIMIC website had to cater to two very specific and very different audiences—practicing veterinarians as well as the patients' families.
As the base of their business, the site first had to appeal to local veterinarians. To accomplish this, BHG designed an architecture that highlighted SVIMIC's various skills and resources. Since veterinarian's entrust their own patients to SVIMIC, bighouse made sure that the website emphasized the team's credibility and reliability, while also clarifying the various ways in which the clinic serves the veterinarian community.
Pets are very much of a part of any family, and BHG's focus was to present owners with a site that demonstrated the same level of professionalism and care that they would obtain for themselves.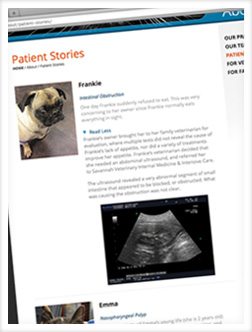 The site also needed to communicate SVIMIC's purpose and role to pet owners and families. BHG worked with the staff to build a reference library to educate families on the specific procedures and treatments that their pets will receive. BHG also suggested that SVIMIC dedicate an area of its site to its patients, illustrating the clinic's overwhelming care and success. These stories are relatable, informative, and inject a sense of warmth and humanity into SVIMIC's serious medical work.
Researching other veterinary websites from across the nation, SVIMIC and BHG both found that many of these sites shared a more whimsical approach, communicating animal, but not necessarily healthcare. After determining the site's needs, BHG's next challenge was to visually apply the seriousness and credibility seen in human-medicine websites to the SVIMIC site. The result is clean, professional, and medical, offering just a touch of the endearing qualities found in the traditional veterinary aesthetic.
Have a look at our work with SVIMIC here, and check out their new site here.