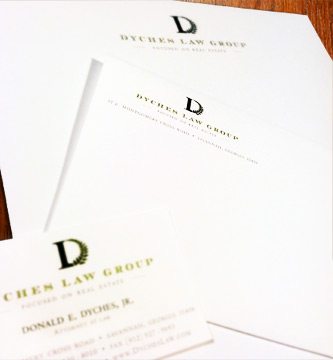 Dyches Law Group has provided legal
counsel to the greater Savannah area for
17 years. Focused on real estate, Dyches
recently subpoenaed bighouse graphix to
complete a rebrand that gave a face to an already prominent name.
For Dyches, bighouse graphix created a memorable logo, stationery, and landing
page that uniformly work to convey southern
legal professionalism. The mark and its color
are reminiscent of Savannah's own real
estate, and the type treatments are reflective
of industry conventions. The overall result
instills a sense of locality and trust, two traits characteristic of Dyches' work.
A new site is in progress with more info and landing page here.